Good Morning Readers !
FRIDAY UPDATE: Congrats to Martha E of FL - WINNER OF THIS CONTEST !!!
We have a lot going on this morning - please join our AuthorIsland chat - this is my ornament I am giving away -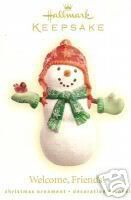 a cute little 2007 Welcome Friends Snowman in celebration of my book publish year.
AND also I am sending along with my ornament, a signed copy of Power of Pussy and a box of chocolates from Swiss Colony (Macadamia Nut Chocolates are deliciously rich. Milk and dark Chocolate Truffles are finely dusted with cocoa powder or powdered sugar. And Butter Toffee is chocolate crunchy sweetness.)
http://groups.yahoo.com/subscribe/authorislandchat
Please check out my other contests !!! We are going to have a fun day !