CLICK HERE FOR CONTEST EXCERPT THE BEGINNING
You Don't Have To Be Good To Win
From the intimate thoughts and pen of author Sandy Patsy comes a controversial journal that records her mind-boggling account of the lust-driven relationship she had at age 60 with Peter Straat and how it opened her eyes to the power all women have.
This Christmas, Sandy is offering a wonderful prize package exclusively for AuthorIsland.com readers. An autographed copy of her book and this too cute t-shirt (size L) purchased from
The Animal Rescue Site
!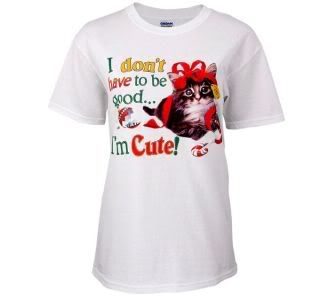 To enter for your chance at this great prize package, simply head over to Sandy's Blog and read her post, Part 1 - The Beginning - read the excerpt to find out these three things - 1. Where did Sandy first meet Peter? 2. How old was Peter when they began their affair? 3. What did Sandy call Peter's girlfriend? Email Sandy your answers to sandyellenpatsy@aol.comThis email address is being protected from spam bots, you need Javascript enabled to view it with AuthorIsland contest in the subject line. And please include your shipping address in case yours is the name that comes out of the hat on Christmas Day! Good Luck!
**Want your name in the hat twice?? Leave a comment here on this blog or at
MySpace.com - SANDY PATSY
!
Create A Great Day
Visit Me At AuthorIsland
Be My Myspace Friend
Join My Newsletter
Check Out Our Author News Blog