THE LION QUEEN JOURNAL
Robyn has emailed lately to suggest that a journal would be desirable to jot down personal POWER notes when reading Power of Pussy so I finally got this journal posted today. I think it is sooooooo fun ! Thank you Robyn for getting me in gear!
I wanted a journal to be part of my book POWER OF PUSSY - that just did not happen so I will probably try to find more journals to fit this concept. Anyone with suggestions please let me know !!!!!!!
From the Designer
Art by Janet Restino. This woman rules! barebreasted, barenaked & wild-haired Lion Queen of Times Square to strengthen & inspire you!
Buy this journal here: http://journals.cafepress.com/item/the-lion-queentimes-square-journal/29943904 (Click on the title of this post to get to this link)
She also has a mousepad, a shirt and lots more Lion Queen here http://www.cafepress.com/janetsarthouse.29943905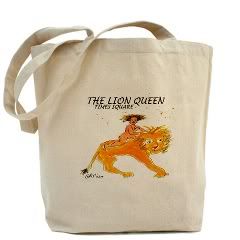 http://www.cafepress.com/janetsarthouse.29943900
I WANT IT ALL !!!